How Does The System Work?
Lease a Site
Are you a new business on a tight budget? Lease a site to get launched online in 5 days!
Own your Site
Ready to begin branding your business? start with your own website you own
Grow Your Market Share
Use your Support Local Influencer Website for growing your know, like and trust with more and more people in your community
Generate More Sales
We'll optimize your website and google listing to help generate more calls and sales
Some of the Businesses We Work With
Why do businesses use Agent Boomer websites?
Because you'll have an identifiable branded website that generates calls and sales.
What are the Benefits for Businesses?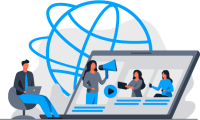 As your online presence grows more people get to know,  like and trust you
you'll be proud of your online image
You'll be reaching more local prospects
You will create more sales and leads
Stop Marketing and start building Relationships!
How do you get started with your own
Agent Boomer website?
Order your website and optimizations today. You'll be glad you did!
"Randy delivered on what they promised and have been a pleasure to work with. They are proactive and have made suggestions to make our business better. Congratulations for a job well done on our website design."
"I didn't have a website for either of my businesses. So Agent Boomer designed both of them to represent me online. It's nice to work with someone who delivers on time and delivers on what they promise."
"Before I worked with the team over at Agent Boomer, my Google Maps/Google My Business listings weren't ranking in the 3 pack. Now they are in the 3 pack and I get consistent monthly business from his team's work."
RELATIONSHIPS ARE MORE IMPORTANT THAN MARKETING
What will your business look like next year when you've added 50 – 100 new leads and sales last year? Leverage a system to fast track your business growth